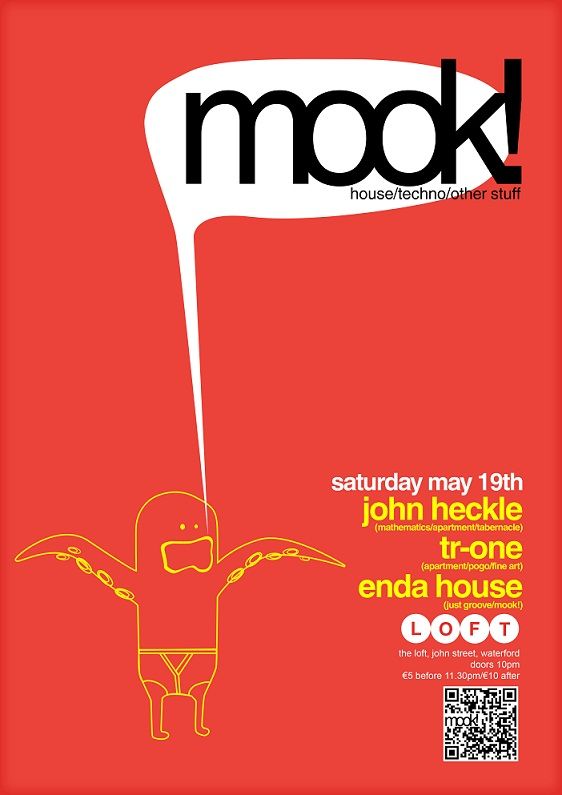 Our booking policy at mook! is pretty simple. We just want to book acts whose DJing we really admire, and whose music we play the living daylights out of. You can hardly blame us, then, for being excited about our next event; a double header in the Loft on Saturday May 19th with an artist and a duo who're undoubtedly among the leading lights of underground House and Techno, John Heckle and TR-One.
Still only 23, John Heckle's recent winning of the Qwartz 8 Discovery Award acts as a publicly voted stamp of approval for his incredible work over the last two years. Of course, his career goes back much further than just that, having played and held residencies at clubs such as The Cavern and Rehab @ Lemon Lounge in his home town of Liverpool from the age of 15.
His singles and album on the blindingly good US based Mathematics Recordings (ran by Jamal Moss aka Hieroglyphic Being) have received boundless praise from critics, DJs and dance floors alike. Tracks, singles, and remixes for Tabernacle, Signals, and Irish upstart Apartment Records have been similarly celebrated.
There's already a connection between John Heckle and Carlow's TR-One (Dean Feeney and Eddie Reynolds when they're at home) even before they play this gig together. TR-One's "Drum Dance" (released on the aforementioned Apartment Records back in January) was bolstered by remixes from none other than our bold Heckle, and Juju & Jordash.
Widely charted and hammered to death by DJs all over (including ourselves) Drum Dance looks to have really kicked things off for the two boys, who've garnered quite a following up and down the country with their stellar productions, live shows and DJ sets. Of course, Kenny Dixon having dropped their upcoming single on Pogo during his recent set in Dublin won't have hurt their reputation either.
On the night we'll be kicking things off at 10pm. It's only €5 in before 11.30pm and €10 thereafter. We recommend getting in early, not only for the cheap admission, but also to catch TR-One's set, as there'll be a warm-up from our resident Enda but it'll be a short one.
As usual, there'll be a range of drink specials in The Loft.
More info @ http://www.facebook.com/mookwaterford